Carpenter Hall, which was completed in 1957, houses the Engineering Library reading room and the administrative offices of the College of Engineering. This building was a gift of Walter S. Carpenter, Jr., who was associated with E. I. du Pont de Nemours and Company from 1909 until his retirement as their chairman of the Board in 1962. Carpenter was a member of the Cornell mechanical engineering class of 1910 and also served Cornell as a member of its board of trustees. The College of Engineering, under the leadership of Dean Solomon Cady Hollister, experienced major physical plant revitalization–ten new buildings added–from the completion of Olin Hall of Chemical Engineering in 1942 to the completion of Bard Hall in 1963.
The reading room shares space in Carpenter Hall with four computer classrooms, run by the College of Engineering. In 2022 the upstairs computer labs were repurposed by the College, so now the library has been reduced to the first floor computers, one computer lab and 4 group study rooms.
The Engineering Library transitioned to an e-library with enhanced e-book and e-journal resources on July 1, 2011. Any print books circulating in the last 5 years were retained in a central campus library (21,000 to Uris, 3,000 to the Math, 1,600 to Mann, 600 to Olin); the rest (157,000) were moved to the off-site Library Annex to join the 204,000 engineering volumes and 2 million technical reports on microfiche. Course reserves are located on the first floor of Olin Library. The Engineering Library's collections serve the 14 schools and departments in the College of Engineering.
A detailed article describing the library at its opening by Jeanette Poor, an early engineering librarian at Cornell, is in College and Research Libraries, May 1959, p. 202-204; 234. See also Celebrating Engineering Librarianship: 130 Years of Cornell Engineering Libraries 1880-2017, by Jill H. Powell, 2017 ASEE Annual Conference & Exposition, Columbus, Ohio. https://peer.asee.org/2801
Directors of the Engineering Library
Small libraries were located in Sibley (mechanical), Lincoln (civil), Franklin (electrical), and Olin (chemical engineering) before being consolidated in Carpenter Hall in 1957. Some of the earliest Engineering Librarians (mentioned in the Sibley Journal of Engineering):
Anson Holbrook Higley, '99; 1897-1899. He graduated in 1897 with a degree in civil engineering. After being librarian for 2 years, he was elected Chief Engineer for the annual survey of the lakes of central New York (Cornell Class Book 1899, Cornell University Digital Archives)
Paul H. Berggreen, M.E., 1914-1916. Left to take a"more lucrative position."
Fred G. Baender, Librarian of Sibley College Library, 1916. He was a graduate student in mechanical engineering. He left for University of Arkansas in 1916
Frank L. Fairbanks, '10 of Pendelton, Oregon, 1916 
Cornell University's Announcement of the College of Engineering lists the following librarians from 1910-1940. The names above were not listed under officers, perhaps they were students who assisted the librarians. Those with a long tenure will appear in bold.
Rowena L. Shephard, Librarian of the School of Mechanical Engineering, 1910-1914
Gertrude Marsh Sanford, Librarian of the School of Civil Engineering, 1910-1917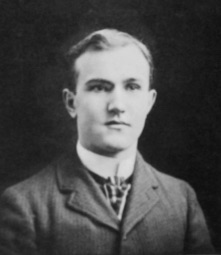 Lena Gertrude Marsh, Librarian of the School of Mechanical Engineering, 1918-1939
Pictured below, Lena Gertrude Marsh attended the Ithaca Conservatory of Music (now Ithaca College) ; the picture is from the Students Concerts Company, 1899. She is possibly related to Gertrude Marsh Sanford, but census records show they are not the same person.
Louise Whittaker, Librarian of the School of Civil Engineering,1922-1923
Mary R. Korherr, Librarian of the School of Civil Engineering, 1924-1928
Lillian Stilwell, Librarian of the School of Civil Engineering, 1930
Grace W. Fish, Librarian of the School of Civil Engineering, 1931-32
Mabel H. Walbridge, Librarian of the School of Civil Engineering, 1933-1942
L. Wilma Grenolds, LIbrarian of the School of Civil Engineering, 1944-45
Mabel Harker, Librarian of the School of Electrical Engineering, 1925-1926
Mrs. I.M. Batchellor, Librarian of the School of Electrical Engineering, 1927-1938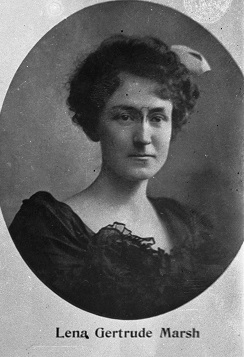 William Henry Hyde, Jr., 1940-1945  Librarian for Mechanical and Electrical Engineering and eventually Civil Engineering. He combined and reorganized the libraries into one in Sibley Hall, added many new volumes, cataloged books, and extended the hours. He left to become the university librarian at Illinois Institute of Technology.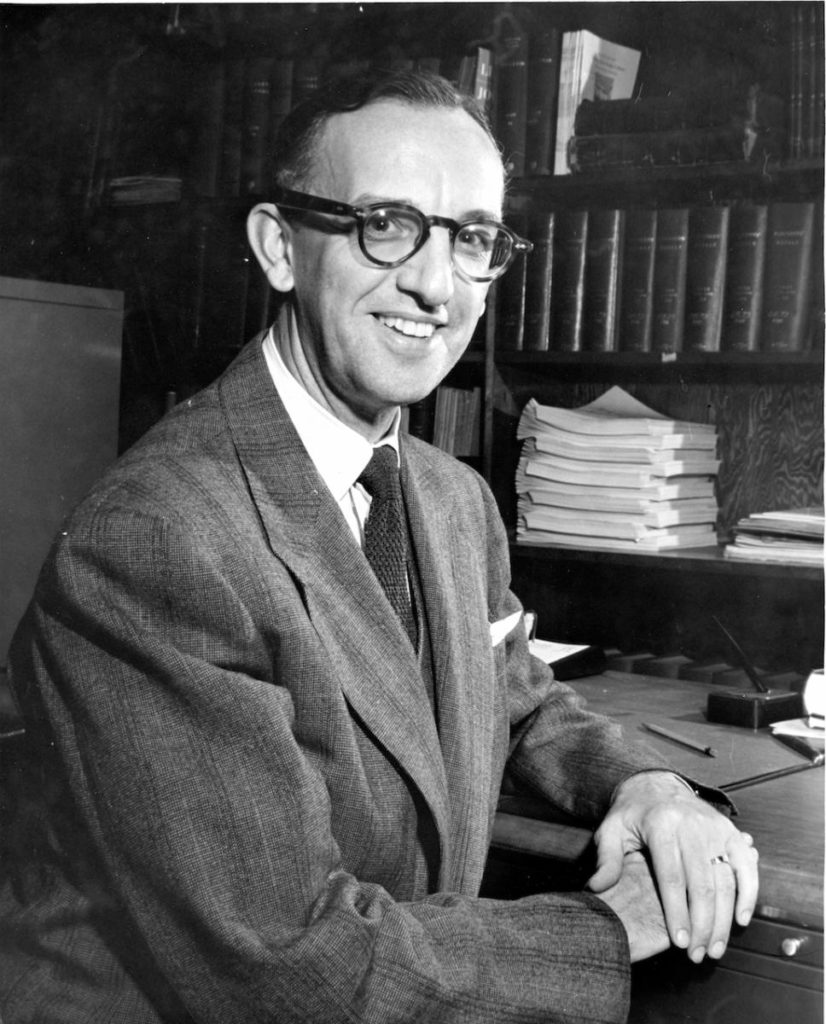 Jeanette Poor Wood, Librarian 1945-1973 (lived 1916-1978)
Jeanette Wood was the first engineering librarian to move from Sibley into Carpenter Hall. Jeanette Poor Wood was the first librarian hired to oversee the newly created Engineering Library in Carpenter Hall in 1957. (Prior to this smaller department libraries existed in engineering departments, Sibley (mechanical), Lincoln (civil), Franklin (electrical) and Olin (chemical) Halls. Jeannette was in Sibley Hall). She graduated from Simmons College in 1937, and held positions in the John Crerar Library in Chicago and the RCA Victor Division in Harrison, New Jersey before she came to Cornell. She was chair of the Engineering School Libraries Committee, American Society for Engineering Education from 1958-1960. This picture is from the Simmons College yearbook of 1937.

Mary McElroy, Director 1973- 1981
Mary was co-principal investigator with Professor Leon Dworsky, professor of civil and environmental engineering, to develop the Northeast Water Resources Information Terminal (NEWRIT), an early information retrieval system in 1975. She chaired a water conference held at Cornell April 23-25,1980, sponsored by the Center for Environmental Research and the Upstate New York Chapter of the Special Libraries Association.
Susan Markowitz, Director 1982 – 1987
Susan worked in many libraries on campus during 34 years of service. Besides the Engineering Library, she worked in the Veterinary, Physical Sciences, and Mann Libraries. She was also Director of Human Resources. She was responsible for training many staff in NOTIS, one of the first computerized library catalog systems. 

John Saylor, Director 1987-2001; 2006-2008
John came to Cornell in 1973. He was director from 1987-2001 and 2006-2008. In between he went on partial research leave to serve as Director of Collection Development for the NSF-funded National Science Digital Library Project.  In 2009 he was appointed Associate University Librarian for Scholarly Resources and Special Collections. He served as principal investigator on the Kinematic Models for Design Digital Library (KMODDL) involving the Reuleaux Collection of 19th-century kinematic machines. He led the Task Force to examine library-related needs for the Cornell NY Tech campus in NYC. In the early years under his leadership the Engineering Library had the first gopher server and Macintosh computers for all staff. He retired from Cornell in 2014 after 42 years of service.

Zsusza Koltay, Interim Director, 2002-2006
Zsuzsa oversaw the refurbishment of the engineering library to include more computers, furniture, and group study rooms. Her expertise focused on user feedback and assessment. Starting her Cornell career in Mann Library, Zsuzsa went on to become Director of Assessment and Communication.

Steven Rockey, Director 2009-2014
Steve became Director of the Mathematics Library in 1972. Becoming director of the Engineering Library in 2009, he oversaw the transformation of the library into the Carpenter Hall 24/7 study space in 2011, when the physical books were removed. 26,000 volumes and course reserves were moved to Uris and other central campus libraries; 157,000 went to the Annex to join the 204,000 engineering volumes already there. He also acquired access to substaintially more resources for online collections. He went into phased retirement in 2015 and will retire January 1, 2018 after 47 years of service.

Erla Heyns, Director 2015-2016
Erla came to Cornell in 1999 as the Director of the Veterinary Library. In 2015 she also became the Coordinator of the Engineering, Math, Physical Sciences Libraries. She conceptualized the new cluster Science and Technology Libraries, and developed new positions to include a Physics, Astronomy, and Math Librarian and an Entrepreneurship Librarian to work with the Center for Technology and Licensing and eHub. In 2016 she left for Purdue University.

Jill Powell, Interim Director 2016-2019
Jill started as a reference librarian in 1986 and is now Engineering Librarian. For over 2 years she was Intertim Head of the Science and Technology Libraries, managing staff in the Engineering, Physical Sciences, and Mathematics libraries. She started the library instruction program in the 1980s. She manages the engineering print and electronic collections, negotiates licenses, serves on publisher advisory boards, and initiates liaison activities with student groups and new faculty. She is liaison to electrical and computer engineering, mechanical and aerospace engineering, operations research and information engineering, and biomedical engineering. Active in ASEE, she has been program and division chair.

Christina Sheley, Director 2019-present
Christina Sheley is Director, Business, Engineering, and Entrepreneurship as of July 15, 2019. She works with the administrations of the S.C. Johnson College of Business, Engineering, and Cornell Tech to align library services and collections to their programs and curricula. She also coordinates library support to Entrepreneurship at Cornell and other entrepreneurship programs in the business and engineering programs.
Further information on the history of the library is found on p. 25 of Cornell Engineering: A Tradition of Leadership and Innovation.

Additional items of interest