LIBRARY COLLECTION AND SERVICES
Books and articles not owned by Cornell?
Borrow books, articles, and more not owned by Cornell from other libraries and universities with Borrow Direct and Interlibrary Loan.
Contactless pickup
Simply pickup items from a designated pickup location by requesting contactless pickup online in advance.
Cornell Academic Materials Program (CAMP)
Information on the program, offered through the Cornell Store, that gives students access to textbooks and required materials in digital format within Canvas.
Course textbooks on reserve
Search for availability of course reserve books at Olin Library and more.
New engineering books
Take a look at titles of recently published books on science, technology, engineering, and mathematics!
Popular e-books
Borrow popular e-books and read on Kindle or other platforms through OverDrive.
Passkey
Access library resources, wherever you are.
Study spaces
Reserve a group study room or find a study space in our libraries here. Quiet study seating is available at Carpenter and alcoves in Duffield, Upson, and Gates Hall.
Laptop and equipment loans
Borrow Mac or Dell laptops, and equipments like phone chargers, headphones, calculators, and more at Olin Library. Some equipments are also available at Mann Library.
RESEARCH SUPPORT
Peer-reviewed articles, patents, theses, and more
Focus your literature search through the use of specific databases.
Engineering research guide
Visit the engineering research guide to stay up to date with top engineering databases, e-book libraries, and refined library resources.
Entrepreneurship and business research help
Ask business librarians with any business or entrepreneurship research questions at mgtref@cornell.edu.
Citation management
Check out different citation management software and citation styles here.
Predatory publishers
Avoid publishing your work in unethical or predatory journals by learning to assess journals here.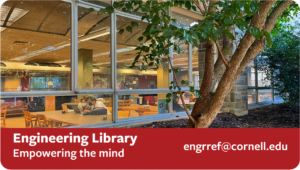 For further questions, contact your engineering librarians at engrref@cornell.edu.